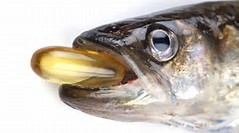 This week Woburn Osteopaths are supporting Mental Health Awareness Week 2016 (#MHAW16) and as such our colleague Emma is sharing some good nutrition advice in this blog.
The Importance of Omega-3s 
The essential fatty acid omega-3 cannot be made by the body, so it must be obtained through the food we eat.  The average person in the UK consumes less than half the recommended amount of omega-3 from oily fish each week (ideally 2-3 portions), and only 1 in 4 people consume oily fish at all!
Omega-3 and specifically eicosapentaenoic acid (EPA) and docosahexaenoic acid (DHA) can be obtained from the tissues of oily fish e.g. trout, salmon, mackerel, herring and sardines.
Taking a daily fish oil supplement, naturally rich in omega-3, can have many health benefits – in particular reducing inflammation, supporting brain health and cognitive function, impacting positively on mood, anxiety and depression (including bipolar disorder, schizophrenia and ADHD). Researchers have also found that it may lower the risk of Alzheimer's disease and other forms of dementia.
Are you getting enough omega-3 in your diet?
Come and visit our nutrition advisor Emma for a personalised consultation: https://woburn-osteopaths.cliniko.com/bookings#service.