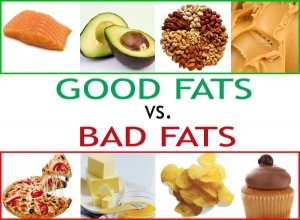 Unsaturated Fats
There are two varieties of these 'good' fats; (1) mono-unsaturated fats e.g. those found in avocados, olive oil, nuts and seeds; (2) polyunsaturated fats e.g. walnuts, flaxseeds and oily fish (salmon, mackerel, herrings, sardines) – also a great source of Omega 3!
Saturated Fats
These are mainly found in meat and dairy products e.g. cheese and milk, but also in coconuts and coconut oil. (These have many beneficial properties – despite their previous bad reputation).   Examples of saturated fats to be avoided and/or limited in the diet include those found in foods such as pizza, biscuits and fast foods. These foods also include partially hydrogenated oils – unhealthy 'trans fats'.
Trans Fats
These are created by a process referred to as 'hydrogenation' (the adding of hydrogen to liquid vegetable oils to make them solid at room temperature – e.g. margarine). They can also be found in many foods such as fast food products, cakes, biscuits, cookies, chocolate and crisps.
For more information contact our Naturopathic Nutrition Advisor, Emma at Woburn Osteopaths this week & start 2017 as you mean to go on!
Link: https://woburnosteopaths.co.uk/what-we-do/nutrition/
Tel: 01525 290615
Email: [email protected]