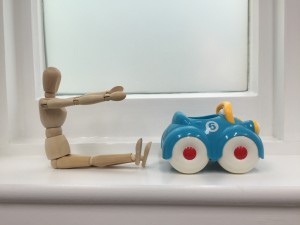 Cars old and new, in particular their seats, are often key contributors to low back pain. Whilst not always the case, there is often a link between excessive hours spent in a car seat with little or no low back (lumbar) support and the aggravation of a low back or neck problem.
Woburn Osteopaths is situated in Central Bedfordshire. Our geographical location affords us a large number of new and returning patients for whom work- and hobby-related driving often exceeds 20,000 miles per year nationwide.
We regularly find ourselves out in the car park assessing our patients' driving positions. We are surprised by the space-aged nature of some modern cars, with buttons and gadgets for every conceivable thing to make the driving experience as enjoyable as possible … and in the same breath disappointed that lumbar support is often an 'optional extra' that is frequently overlooked.
Each and every one of us will fatigue over long or repetitive journeys, as will our posture. The natural curves of the spine are compromised and tissues become stretched, leading to soreness in the low back and compensatory issues in the neck. By supporting the lumbar spine whilst sitting in the car (and at a desk or on the sofa – but more of this in an additional blog) the natural curves of the spine are encouraged, easing strain in problematic areas.
Quick checklist 
Sit correctly – bottom at the back of the seat and shoulder blades supported by the contour of the seat. The seat position should feel natural and allow your elbows to rest at a comfortable and relaxed angle for driving.
Assess lumbar support – it's often a dial or a switch on the side of the upright part of the front seats. As you adjust, you should experience a gentle pushing into the small of the back. Fear not if your car or van does not have lumbar support as accessory ones are readily available and can be very reasonable (contact us for free advice).
Feet position – feet should rest comfortably, allowing you to press the pedals down with minimal leg use, mainly ankle movement.
Mirrors – assess the position of your side and rear-view mirrors before setting off, ensuring that they allow you to see all around the car with minimal head and neck movement.
Relax – a neutral and relaxed driving position reduces stress on the spine, allowing your seat to fully support your weight.
Please feel free to contact us for free advice 01525 290615 / www.woburnosteopaths.co.uk/contact/.