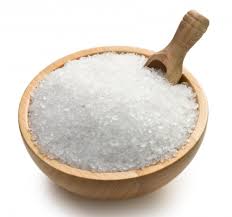 As we sit and type this blog the Virgin London Marathon website tells us that there are 2 days, 12 hours and 42 minutes until the start of the 2016 race.  No doubt many of you have been to collect your race packs.  It is all starting to get a bit real!
But have you considered how to recuperate after the race?
As we discussed in our previous blog 'Marathons, triathlons & obstacle courses' a sports massage is an excellent idea.  If you are running for a charity then they may be offering sports massages at their meeting points beyond the finish line.
But a hidden gem which we have chosen to highlight in this blog is the use of Epsom salt when you get home.
What is Epsom salt?
Epsom salt is made of magnesium and sulfate (two nutrients which are not found in other salts), ingredients which can help to improve health in a number of ways. A lack of magnesium (which regulates the activity of over 300 enzymes in the body) may contribute to high blood pressure, hyperactivity, heart problems and other health problems. Sulfate is essential for many biological processes, helping to flush toxins and helping form proteins in joints, brain tissue and mucin proteins.
Health benefits of Epsom salt
 Soothing muscle pain and aches,
Providing itch relief from sunburn
Removing splinters
Decreasing swelling
Boosting the body's levels of magnesium and sulfate
Recipe for using Epsom salt after the race
Add two cups of Epsom salt to the water in a standard-sized bathtub and soak for 15-minutes up to 3 times per week.
Race day packing list essentials
Just as a quick add-on (!) from experience we can highly recommend packing the following items in your bag to have at the end of the race:
Blistex / Blistese (medicated lip balm) for salt-stinging lips;
Wet wipes for the sweat and salt on your face;
Flip flops as it is bliss to take your trainers off before the journey home;
Dry clothes;
Hot cross buns for a no nonsense tummy-filler.
Ample water to rehydrate.
GOOD LUCK 
Osteopathy and sports massage appointments available online next week: https://woburn-osteopaths.cliniko.com/bookings#service.