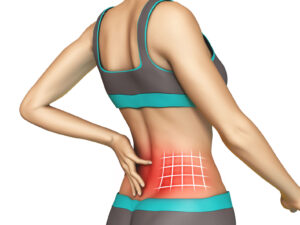 Are you struggling with an acute muscle spasm or a recurrent muscle spasm? Either way, muscle spasm is extremely common and it can be very uncomfortable. At Woburn Osteopaths we aim to promptly and accurately diagnose the root cause of the muscle spasm before offering relief from the symptoms with a range of suitable techniques as appropriate.
Introduction
Muscle spasm and muscle pain (myalgia) are spontaneous contractions within muscle tissue. They are the body's means of protecting itself from injury and damaged structures. Spasms may affect many different types of muscles in the body, leading to a variety of different symptoms and clinical presentations.
Skeletal muscle will most commonly go into prolonged spasm as part of a protective mechanism to prevent further damage where there has been an injury to a neighbouring structure (e.g. a disc bulge in the spine). Other common areas for muscle spasm are surrounding other joints in the body and those associated with a damaged muscle or tendon. This form of muscle spasm is different to a muscle cramp, which is a short-term muscle spasm lasting usually for less than ten minutes at a time.
Muscle spasm may also be the result of dehydration and electrolyte imbalances in the tissues.
A muscle in spasm will cause both a reduction in movement and localised pain in the damaged area. On occasion pain will radiate from the site of the injury and original muscle spasm to another linked area (e.g. an acute injury to a spinal facet joint that creates local inflammation and muscle spasm with radiating pain into the buttock).
In longer-lasting instances of painful muscle spasm, which do not resolve or regularly reoccur, onward referral via a GP is key to investigate possible underlying causes.
How will an osteopath treat muscle spasm?
At Woburn Osteopaths we will take a detailed case history and perform a careful examination of patients with muscle spasm. The aim is to carefully establish the true cause of the muscle spasm as opposed to treating the symptoms alone. Where appropriate we will discuss a range of effective techniques with the patient and outline a management plan to reduce pain in the affected area. The aim is to prevent a re-occurrence of the spasm. This is generally achieved by improving the overall function in the affected area. In addition, we will offer bespoke advice on lifestyle and daily postures and prescribe suitable exercises where indicated.
Techniques that we regularly use in the successful treatment of muscle spasm include:
Soft tissue techniques
Spinal mobilisation and/or manipulation
Assisted stretching techniques
Taping techniques to restrict or support movement as appropriate
Dry needling
Contact us
Contact Woburn Osteopaths today if you are struggling with acute or recurrent muscle spasm: 01525 290615 / [email protected]. We look forward to hearing from you.